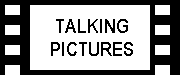 I first saw The Portuguese Nun, and briefly reviewed it for Talking Pictures, at the 2009 London Film Festival. I saw it again on its (extremely limited) UK release in 2011, and have now bought the DVD. More than most other films, it has increasingly grown on me, and I would strongly recommend it to anyone who loves both "slow cinema" and Lisbon.

Julie (Leonor Baldaque) is a French actress staying in Lisbon to star in a film called The Portuguese Nun (A Religiosa Portuguesa) based on the 17th century novel Love Letters of a Portuguese Nun. The director of the film-within-a-film is played by Eugene Green, the USA-born real-life director. This self-reflexivity has distinguished antecedents, such as Singin' in the Rain, Godard's Le Mepris, and Fellini's Eight and a Half.

Julie spends much of her time wandering the streets of Lisbon, encountering various characters including a young boy, his adoptive aunt, a man whom Julie thinks is a reincarnation of a long-dead king, and a real-life nun. She frequently comments that she would like to be somewhere else, and even somebody else, a theme repeated in the several beautiful songs we hear performed by fado singers. It is her encounter with the nun, in an intense 10-minute nighttime conversation, which finally determines Julie on who and where she wants to be.

What will strike every viewer is the acting style, extremely mannered, deliberate, slow, spoken mostly straight to camera. It reminded me of the films of Ozu, and particularly of late Dreyer, and I was interested to read that Eugene Green's favourite ten films include Ozu's The End of Summer and Dreyer's Gertrud (Sight and Sound's 2012 best films poll). The film's opening minutes consist of a very slow pan over the Lisbon cityscape. Many find this style off-putting, but it perfectly suits the lazy atmosphere of the city. The cinematography is stunning, amazing visual effects being achieved in, for example, the close-ups of Julie listening to the female fado singer.

Apart from a trailer the DVD is lacking in extras, surprisingly in view of the interviews which Eugene Green has given about his film. That reservation aside, I strongly recommend this film to any fan of "slow cinema" or of Lisbon and its music.